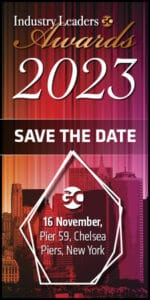 Global Custodian invites you to join us once again and celebrate our Industry Leaders Awards Dinner, taking place on 16 November at Current, Pier 59, New York.  
This year's dinner will, once again, recognise the specific achievements made by hedge fund administrators, mutual fund administrators, prime brokers, private equity fund administrators,  exchange-traded fund administrators, and for the first time this year, the top achievers from our Outsourced Trading survey. 
Along with those awards recognising achievements in Global Custodian's annual surveys, the Editors' Choice categories will recognise the year's Best New Fund Services Project, Fund Services Partnership of the Year and Fund Services One to Watch. 
For our annual Innovation awards we are accepting nominations through this link for those product launches and services which we believe are innovative within their own field as well as companies that have made a difference in the industry over the past year. 
We will also present our coveted Industry Legend awards, the Lifetime Achievement award, and our annual Fund Services Industry Person of the Year.