Congratulations on your win at Global Custodian's Leaders in Custody Asia awards. What – for you – were the contributing factors behind the successful year that led to this award?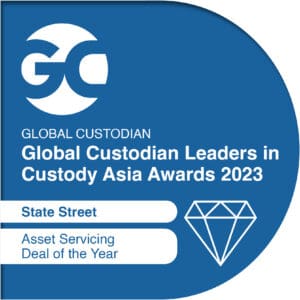 In the past couple of years, we have focused strongly on transforming our organisation, operating model and platform to provide the best in class solutions for our clients and the people they serve. Through our efforts in Asia Pacific, we have renewed and reinvigorated the spirit of innovation and partnership when collaborating with our clients, reviewing our value proposition and accelerating innovation by leveraging new technology.
A client centric approach powers our differentiated front-to-back and data solutions that help our clients navigate operational complexity. The culture shift to co-create solutions in partnership with clients has also seen State Street drive innovative and integrated digital, ETF and ESG solutions for APAC clients.
Being chosen by Australian Retirement Trust (ART), one of the nation's largest super funds, is a testament to our continued focus on client-centricity and innovation. We took great care to thoroughly understand ART's needs as it enters the next phase of integration, transformation and growth, following the successful completion of its merger. Our fit-for-purpose solutions address the challenges ART faces and support its growing portfolio of investments internationally with our global network. On top of our robust and scalable middle and back-office solutions for ART, we expanded our support to data management and analytics across public and private markets assets.
Could you outline some of the main achievements and milestones from the year?
Acquiring Charles River Development a few years ago allowed us to develop the industry's first front-to-back asset servicing platform, State Street Alpha, and through this platform, institutional investor clients can easily gain access to aggregated data, analytics and real-time insights. We have continued to enhance the cloud-native platform by integrating third-party software and partners. As the largest ETF administrator in the world with more than 2,700 ETFs serviced in 13 countries, State Street has further strengthened State Street Alpha with new front-to-back ETF capabilities so it can support the entire ETF lifecycle with end-to-end technology and processes.
With increased interest in private markets, we launched State Street Alpha for Private Markets to offer investment managers a single platform for managing private market assets including infrastructure, private equity, real estate and private debt.
Earlier this year, we agreed to acquire CF Global Trading, a global firm specialising in outsourced trading. This deal will not only add scale and expertise to State Street's current outsourced trading services, but will also provide clients with multi-asset class execution, modular-based solutions, 24-hour global trading capabilities, reduced operational risk and potential cost savings.
As the demand for carbon assets continues to grow, we have recently launched carbon asset servicing solution and depositary services which allow institutional investors to integrate carbon-related assets into their portfolios, helping them incorporate carbon assets into both existing ESG and non-ESG portfolios.
How do you plan to build on this success going into the rest of the year and beyond?
Australia is a key market for State Street. With 38 years of experience servicing Australian clients on the ground, we understand new regulations and stakeholder demands have challenged superannuation funds to increase their operational efficiency and innovate while improving transparency. We will continue to partner with them to evolve their operating models, acting as a bridge to support their global expansion. We will leverage our experience with sophisticated asset owners in Australia to enhance our capabilities and service for other clients in APAC and globally. We look forward to supporting their growth journey for the rest of the year and beyond.