What – for you – were the contributing factors behind the successful year that led to this award?
It's a real honour to receive the Global Custodian Award for Best New Asset Servicing Project for Swift Securities View. And a ringing endorsement of all the collaboration with the securities community that has gone into making it a success.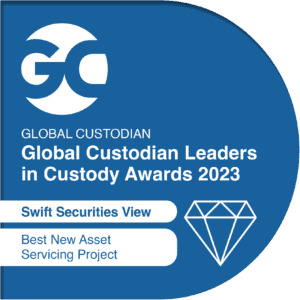 Swift has always been about delivering value across the financial community by solving business problems and mutualising costs in areas where there's no competitive advantage for firms to differentiate their services.
Swift Securities View is exactly this. It lets you track a securities transaction from end to end throughout the entire settlement lifecycle.
This transparency could open many doors: increasing your operational efficiency, speeding up investigations and settlement, improving customer experience, bringing down costs, and driving innovation. In particular, the service helps you quickly identify trades at risk of failing, so you can take pre-emptive action. And this is particularly relevant today when firms are facing penalties for late settlement under CSDR and as more markets start introducing shorter securities settlement cycles.
The solution ultimately benefits all parties in the settlement chain, from asset managers to brokers, to global custodians and central securities depositories, which is another factor in its success.
Could you outline some of the main achievements and milestones from the year?
Following on from our successful pilot in 2022, Swift Securities View launched in January, and it has strong growth momentum behind it.
Already, over 50 of the world's leading financial institutions – which account for more than 630 million securities transactions each year – have signed up for the service. And these comprise institutions involved in all stages of the settlement chain.
In February, a major bank successfully delivered a Unique Transaction Identifier (UTI) to their custodian via a Swift settlement instruction, which was tracked by Swift Securities View.
And we are collaborating with third-party providers to ensure support for UTI exchange, generation and integration of the settlement transaction data, which could lead to some very exciting outcomes.  
How do you plan to build on this success going into the rest of the year and beyond?
While the initial purpose of Swift Securities View was to improve settlement efficiency, it will also play an invaluable role in helping firms meet upcoming regulatory requirements.
Notable market changes include the global rollout of shorter securities settlement cycles. From May 2024, the US, Canada and Mexico will abandon T+2 and introduce T+1 for securities settlements. The EU and UK are currently consulting on T+1, and it is expected they will adopt it eventually.
While shorter settlement cycles will bring benefits, it also means there's less time for firms to carry out post-trade activities and asset servicing. This could lead to more trade fails and financial penalties.
If the industry is to handle T+1, it will need to embrace automation and ensure that straight-through-processing (STP) is embedded into the entire settlement chain. The ability to track trades via Swift Securities View will help firms achieve these objectives.
Moving forward, continued collaboration with the capital markets community will be key to the long-term success of Swift Securities View. In addition to bringing more transparency into the trading lifecycle, we also want to reduce the amount of time people spend dealing with issues that occur during settlement. The ultimate end goal is for Swift Securities View to help prevent these problems from happening altogether – and this is the journey we're on with the securities community.