COO • Larch Lane Advisors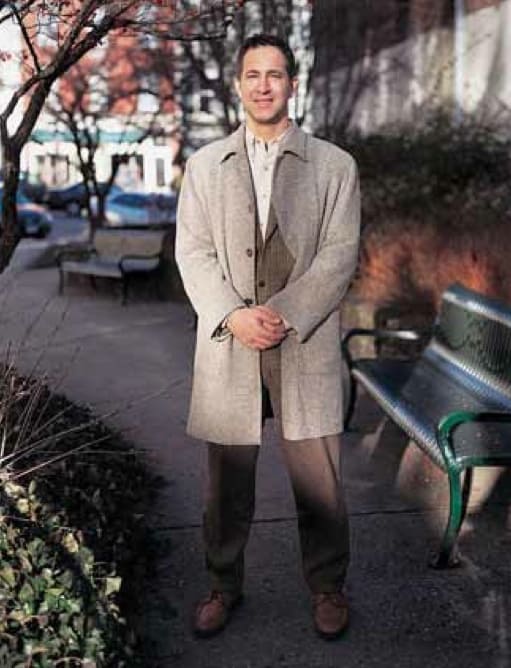 Kevin Mirabile has been in the hedge fund business since before most people had ever heard of a hedge fund. Starting off as a fledgling accountant some 30 years ago, he is now the COO of Larch Lane Advisors, a $1.4 billion fund of hedge funds.
It is somewhat rare to meet someone who dreams, at a young age, of a career in banking and finance, but Mirabile insists he is one of those exceptions. After earning a bachelor's degree in accounting at the State University of New York at Albany, he became an auditor at accounting firm Arthur Anderson in 1983. It was there that he got his first taste of the hedge fund world that would dominate the rest of his career.
Back then, hedge funds were more of an outlying curiosity in the investment world than anything, with little regulation and structure and driven primarily by high net worth individuals. But "hedge funds were always viewed with intrigue," Mirabile says. "In the early days there was not a lot of transparency, but there was a lot of fascination with the unknown. People wanted to give their money to or be near legendary managers."
His interest was equally sparked on the servicing side of hedge funds. After a few years at the accounting firm, he moved closer to the hedge fund world at Morgan Stanley, where he worked first as a financial controller in its international derivatives division and soon after at the Morgan Stanley Services group, an innovative mash-up of the organization's custody, clearing, securities lending and prime brokerage businesses. He climbed the ranks quickly. In 1991, Mirabile moved to London to head the firm's global prime brokerage business, where he worked until a promotion in 1994 brought him back to New York to become president of the Morgan Stanley Trust Company.
But Mirabile admits his heart wasn't in it. "I missed the action and the excitement of the hedge fund industry," he says. He left Morgan Stanley in 1995 to join Daiwa Securities, where he restructured the firm's business to combine prime brokerage, securities lending, total return swaps and electronic trading under one roof, in the same vein as the Morgan Stanley Securities group at which he had worked since its infancy. "Securities lending and prime brokerage were two different parts of the businesses at Goldman, Morgan and Bear Stearns," Mirabile says. "At Daiwa, we were able to put together a unit responsible for prime brokerage and securities lending, electronic access to exchanges and several forms of derivative financing. It was a one-stop shop for the hedge fund community."
That would turn out to be a smart move, for the hedge fund community broadly and for Mirabile personally. Hedge funds suddenly had access to a gamut of services from one firm, commonplace today but one of the first offerings of its kind back then. For Mirabile, it solidified his commitment to and prowess in back-office services for hedge funds.
In 1998, Daiwa sold that business to Barclays Capital under the entreaty of Bob Diamond, a long-time Barclays executive who is now president of Barclays plc and CEO of its corporate & investment banking and wealth management businesses. A mentor of Mirabile and a former Morgan Stanley boss of his, Diamond saw an opportunity to expand the "one-stop shop" even further. Barclays gave Mirabile added responsibility for fixed-income prime brokerage, foreign exchange prime brokerage, US government bond repo, corporate bond repo and collateralized finance capabilities all under the one umbrella. "That was one single point of contact for hedge funds who wanted to finance their portfolios across asset classes. For the first time, hedge funds could go to one place for risk management and for haircuts and margining of their total portfolios," says Mirabile.
Barclays Capital "loaned" Mirabile to Barclays Global Investors (BGI) to help the division develop a strategy to create and expand its fund of hedge funds business in 2004, his first experience with the fund of fund and asset management business. "BGI was a very academic organization. The buy side looked at the world through the lens of PhDs," says Mirabile. At the same time, he also began helping to recruit new talent to Barclays Capital, which involved lecturing at campuses including Yale, the University of Chicago and the University of Pennsylvania to scout fresh talent.
He left Barclays in 2005 to pursue consulting work, but never stopped lecturing, something for which he had developed a passion. With a master's degree in banking and finance from Boston University that he earned while consulting, Mirabile hit the classroom again, both in front of the professor's podium and behind. Now in his second year as a doctoral student in finance and economics at Pace University, he has also served as an adjunct professor of finance at Fordham University and most recently taught economics at Manhattan College.
Meanwhile, in 2007-08, he was busy on a little side project: COO of Orca Asset Management, his first hedge fund experience. This time he was behind the wheels of a hedge fund, a world he had grown to be so familiar with over the decades prior but which he had never learned the operational nuts and bolts. Indeed, he would find out, operating a hedge fund and servicing one are two very different things; he and his partner elected to close the fund and return capital in kind when it went illiquid at the end of 2007, down 7% for the year. But it was a valuable learning experience, both for him and for the Fordham undergrads who most certainly will learn from Mirabile's mistakes. "It would have been disingenuous to continue to raise money," he says. "In hindsight, I'm glad we closed the fund. I'm disappointed it didn't grow, but if we hadn't closed the fund, I wouldn't have found Larch Lane."
And so the story unfolds. At Larch Lane Advisors, Mirabile contributes his experience in the buy and sell side to the advisory firm and its fund of hedge funds, one of the only that has seen an increase in assets in recent years (see "The red herring of 2+20?" Global Custodian, Winter 2010).
What is the highlight of his career? Being a successful fundraiser, he says. But, for once, he is not talking about hedge funds. In 2006, along with his network of friends in the banking and hedge fund industries, Mirabile raised $2.5 million to help found the San Miguel Academy of Newburgh, a middle school for underprivileged boys. (Newburgh is an economically depressed city near Mirabile's childhood home in Orange County, New York, with one of the highest per capita violent crime rates in the US.) The school's first class graduated last year, all of the pupils earning prestigious places in private high schools. "It was a chance to take the good fortune and reward the financial industry has allowed me to achieve and put it to work for a purpose that goes beyond what we do on a day to day basis to earn a living," Mirabile says. "It was the proudest moment of my career." –Christopher Gohlke