Head of Global Financial Institutions, BNY Mellon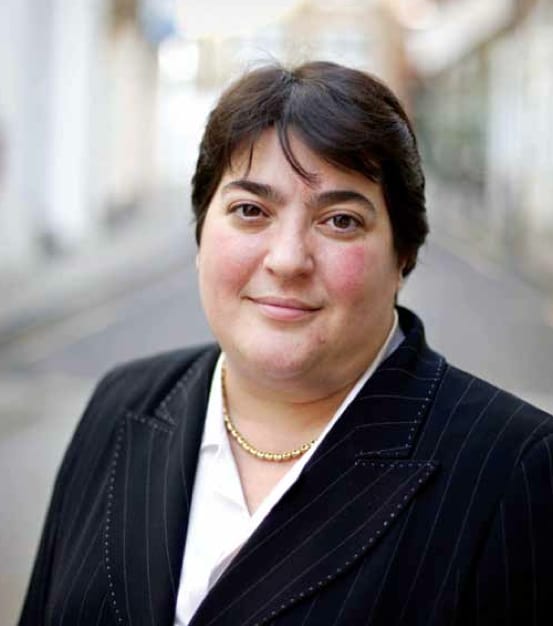 "I swear they picked me because I had a passport, and I was ready and willing to travel," Nadine Chakar says modestly. She has been asked why, as a relatively junior member of the sales and marketing group at Mellon Bank at the time, it was she who was tasked with flying to Amsterdam to investigate a potential deal with Dutch bank ABN AMRO. It was an opportunity to try something new after having filled a number of different posts within Mellon in Boston for the preceding decade – the majority of her post-college life. "Talk about being in the right place at the right time," she says, again perhaps selling herself a bit short, as if one of the custody industry's most successful joint ventures had just orchestrated itself back in 1999. In reality, it was Chakar who made it happen.
"For Mellon, it was a very important step in the global expansion of the Pittsburghbased company," she says. "The only international presence we had at the time was in Canada, the CIBC Mellon joint venture. That was our view of the world from an international perspective. It came to a point where the ERISA market – the bread and butter for Mellon – was tapping out; it became a takeaway business. ERISA, the defined benefit market, wasn't growing, so our clients needed Mellon to provide more international services. Building was too slow. To buy was incredibly expensive. The other option was to partner. For ABN AMRO, it was the flip side of the mirror. It was a universal bank present in 100 countries with a vast client base, but they were clamoring for products. They were dying to get into a fee-related business because the American custodian banks started moving into the Netherlands and taking away whatever little custody business they had. It really was a marriage that was truly made in heaven as far as being totally complimentary."
Having convinced her employer of this, ABN AMRO Mellon was born.
From Day 1, Chakar was at the helm of the JV. "That was the best job anybody could ask for," she says. "I guess I'm a fairly ambitious person. They needed someone with my personality." In a way, she needed them, too: "It was really the ability to set up my own company." She built the teams of staff and led the client transition. Her initial sixmonth post in Amsterdam came and went, stretching on to the better part of a decade in the Dutch city. Initially a virtual joint venture, ABN AMRO Mellon Global Securities Services became a formal, regulated Dutch bank in 2004, with Chakar leading the way as CEO. The JV grew from scratch in 1999 to more than $1 trillion in assets under custody by the mid-2000s.
When The Bank of New York merged with Mellon Financial in 2007, and later that year dismantled ABN AMRO Mellon by buying out the ABN AMRO stake, the deal naturally had to go one of two ways for Chakar. Recognizing her talents and experience and her rising stature in the industry, BNY Mellon astutely invited her to become head of Europe, the Middle East and Africa for BNY Mellon Asset Servicing. "I went from running the smallest custody group to the largest," she recalls. "Overnight. One press release. It was a massive change of pace." Three years later, when BNY Mellon created its Global Financial Institutions group, encompassing all of its banking, mutual fund and insurance industry business, the firm again tapped Chakar for a promotion and asked her to run it. Her "team," as she calls the employees under her purview, now consists of 7,000 people – about a fifth of BNY Mellon's global staff.
Chakar speaks of her days at ABN AMRO Mellon with a fond nostalgia. "From a personal perspective, it's an experience that can never be replicated, but one that currently serves me well in my current role," she says. "It gave me a broader look at the world, a better understanding of how the global markets and global clients work. I learned lessons that I am still applying today, although now I am running a much larger business at BNY Mellon." Her latest role indeed has been a change of pace. It has pushed her management and leadership skills to limits she didn't know existed, she says. She wistfully recalls the days when she knew the birthdays of her employees and could recite the names of their partners and their children – an impressive feat in an organization of 300 staff, let alone one with ten or 15 times that many. But it has been a natural next step in the progression of the career of one of the securities services industry's stars.
In the years since that first trip to Amsterdam, Chakar has grown to become one of the highest-profile women in the custody business, yet she still shies away from the notion that she is a legend of the industry. "I never aspired to see my name in print," she says, and there is no doubt she means it. "It's very humbling, but that was a side product of my main passion, which is to do a wonderful job – the best job – I could for my clients. When I look back, there is not a day I haven't looked forward to getting out of bed and getting going. That's what motivates me."
It is difficult to question it. There is an air about her that suggests that if she had even the fleetingest of doubts about whether or not she loved what she was doing, she would box up the trinkets on her desk and move on.
Born in the US and raised in Beirut, Lebanon, Chakar returned to the States as a teenager to attend university. With plans to follow in the footsteps of her father, a doctor, she spent her first year in college as a premed student. Suffice it to say her second year involved a change of major. Fresh out of Boston University with a finance degree in 1987 – which, unfortunately for financial services job seekers at the time, happened to coincide with the tanking of the global markets – Chakar considered herself lucky to find an entry-level job at State Street in Boston. "I don't think I ever said I wanted a career in asset servicing or to work for a custodian bank. I didn't know what those were," she says. "They told me what to do, and I did it, and everyone thought I did a good job. But really, it took me six months to understand what I was doing." After 18 months, she left to join the performance measurement division of Boston Safe Deposit and Trust Company, which was swiftly bought by Mellon. She has worked at Mellon in its various iterations ever since.
After Mellon bought Boston Safe, she moved to the firm's mutual fund business, where she started her own performance consulting group. From there she joined the sales and marketing team, which led her to Amsterdam. "I'm extremely fortunate that I've worked for an organization that's understood my potential, my limitations, and allowed me to thrive in that environment," she says. "I have been surrounded by the right people and tools to be successful. I don't know if I would have been able to do this at a different place."
What is next for Chakar? Wherever the custody industry goes, she will likely be right there at the forefront of it. "Instead of 'I can settle your trades' or 'I can strike a NAV,' the discussion clients need today is how to help them manage the change that's imposed on us every minute," she says. "Dodd-Frank, UCITS V, new registration requirements in Asia – stuff is coming out of all different corners of the world. Clients need leadership. When I look back at the evolution of what custodians have done, they are extremely resilient in reinventing themselves at different tipping points. They have gone from the plumbing to being core partners in helping clients manage their business." She too has gone from the "plumbing" of the business to the face of it, but the one common thread all along has been the people on which she has made a positive impact. Her clients. Her bosses and colleagues and staff. It is a lesson of which others should take note. The business is not about net income and assets under custody – that is secondary. Treat people well and those things will follow. Nadine Chakar has the right idea. With her, clients have a partner, indeed.
"I'm just a believer that if you love what you do and have a passion for what you do and try every day to do a better job than yesterday, everything else falls in place," she says. 
– Christopher Gohlke