Recently retired managing director of business development for Asia-Pacific and EMEA, Omgeo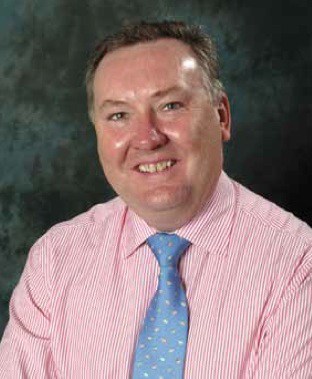 Green Bay Packers, San Francisco Giants, Los Angeles Lakers, Chelsea Football Club, the All Blacks, Leicester RFC and England's cricketers are all champions in their own right. For any quality team to reach the top though, there needs to be a carefully balanced combination of vibrant youth and dogged experience in the starting lineup.
This sporting ethos is also something Martin Brennan, the recently retired managing director of business development for Asia-Pacific and EMEA (Europe, Middle East and Africa) at Omgeo, believes is a must-have for any firm to succeed. He should know – he played football for top-flight team Coventry in the 1970s while studying business and German at the University of Warwick. During his longtime football career he even played alongside highly regarded internationals including Dennis Mortimer, Les Ferdinand and Tommy Hutchinson.
Brennan, who joined Omgeo in October 2004, was the type of experienced individual the team needed to expand into the European and Asian markets. These are regions Omgeo has gained significant traction in the last few years. "We continue to penetrate those markets successfully," Brennan says.
Prior to Omgeo, Brennan had served as head of origination at Deutsche Borse AG Group, head of Europe at Clearstream – where he was responsible for customer relations, service, connectivity and training in the region – and furthermore held numerous positions at Barclays Bank over a period of more than 20 years.
During his 6-year tenure at Omgeo, Brennan oversaw some radical changes. His accumulated business relationship experience ensured he brought significant insight into the organization, particularly as the firm was in the process of building up new sales and relationship management teams. Much like the coaches who elevate up-and-coming players, Brennan promoted a series of young talents including the likes of Tim Keady, Leigh Walters and Kevin Rideout – individuals, he believes, who are destined for the top. Giving this young blood such responsibility in Omgeo was a real buzz, says Brennan. "Companies must get the blend right between experience, energy and enthusiasm," he says.
Adjusting the management teams prompted a shift in how Omgeo approached and dealt with its clients. "There was a need to create relationship management roles and get relationship officers onto major accounts," Brennan says. "We restructured the account base in strategic accounts and created segmentation for hedge funds. This enabled people to focus on the various market segments more efficiently." By identifying clients' needs more carefully and better understanding their environment, Omgeo has seen its market share jump and reputation rise exponentially by tailoring its product offerings accordingly.
"This made clients more positive about us in Europe," Brennan says. "In the US, Omgeo is viewed as a piece of Depositary Trust and Clearing Corporation infrastructure, and it is an accepted part of the market. However, in Europe, we were seen as just a software vendor. When I joined, I felt we needed to become more than just a software vendor and more relevant to the straight-through-processing agenda of our clients."
One of the biggest challenges Brennan and his team faced during his time at Omgeo was developing and successfully implementing a central counterparty service for pan-European equities trading for hedge funds. The EuroCCP/Omgeo offering was finalized in October 2010 (see "The narcissism of small differences," page 28) and gaining traction among its hedge fund client base. The traditional trade settlements system for bilateral over-the-counter (OTC) derivatives and cash equities was described by Brennan as something of a "windscreen wipe" – lining up trade details between the hedge fund, prime broker and executing broker. With EuroCCP acting as the central counterparty in the trade cycle, hedge funds can now enjoy diminished counterparty and settlement risk with their prime broker and executing broker – which significantly reduces settlement transaction costs. Furthermore, it provides an important link between the buy side and sell side.
"Omgeo used to be solely about post-trade matching," Brennan says. "One of things we did was to successfully integrate trade matching with clearing and settlement. We tried to create real STP, and for this it was essential to integrate clearing and settlement." 
While Brennan's work in the securities services industry was significant, his retirement presents him with new goals and opportunities. "I want to get my golf handicap down. It is currently 20, but when I was at Omgeo I didn't really get the time to play," he says. He is enjoying the free time – this is the first proper break he has had since the age of 22 – and there are plans in the pipeline to visit Latin America. A huge fan of "The Motorcycle Diaries," Brennan wants to emulate the young Che Guevara and visit Chile and Argentina.
In the meantime, he hopes to do some work in the voluntary sector and is currently working on several property projects. "I'm looking at a variety of things," he says. "I'd be happy to participate in some church projects. A friend of mine is doing charity work to help the people of Haiti, so that is a possibility. There are lots of things out there if you apply yourself."
-Charles Gubert