Congratulations on your win at Global Custodian's Leaders in Custody awards. What – for you – were the contributing factors behind the successful year that led to these awards?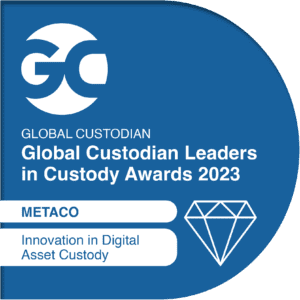 Metaco continued to experience sustained growth and demand for its technology, across the globe. Metaco's digital asset custody and orchestration platform, Harmonize, has established itself as the global institutional standard for digital asset services, selected by notable global custodians, sub-custodians, and innovative custodian scale-ups. Metaco's technology underpins existing and new institutional commercial offerings which will radically change the capital markets in the decades to come – such as tokenisation and digital asset custody platforms, blockchain-enabled payments and settlement services, wallet services embedded in DeFi apps etc.
Could you outline some of the main achievements and milestones from the year?
Metaco's mission-critical platform Harmonize has been mandated for strategic projects by six out of 10 of the largest global custodians, after intensive due diligence and technical proof of concepts. Notable new publicly announced clients of Metaco during the period include Citi, BNP Paribas, Societe Generale, DekaBank, DZ BANK, VP Bank and Archax.
In Asia Pacific, Metaco's long-standing partnership with DBS Digital Exchange has resulted in a doubling of institutional investors onboarded in 2022, with custodied BTC and ETH growing by over 100% and 60% respectively. DBS also expanded the service to accredited investor clients of DBS Private Bank, and plans to expand its crypto service in Hong Kong, where Metaco is already working with a publicly listed securities services firm. National custodian UnionBank of the Philippines has gone live on Metaco Harmonize to pilot the launch of crypto services for its clients.
To sustain this demand, Metaco has trebled in headcount over 12 months, adding senior executives from IBM, Accenture and Citi among others. In addition, Metaco has invested in key personnel across R&D, engineering and customer success, to ensure the continued implementation of industry-leading digital asset custody solutions.
As part of its commitment to innovation and servicing institutional needs, Metaco brought to market its proprietary multi-party computation (MPC) key management solution, while working with strategic partners to integrate MPC key shards in hardware security modules. This will deliver the highest degree of security and flexibility in institutional custody, strengthening Metaco's differentiating position in the market as the only custody technology platform able to pass the rigorous due diligence processes of top tier banks.
How do you plan to build on this success going into the rest of the year and beyond?
Metaco's market traction led to it being acquired for $250 million in May 2023 by Ripple, a leading provider of enterprise blockchain and crypto solutions.
Metaco's custody solution complements Ripple's strengths in payments, liquidity and tokenisation technology. Ripple recognises the immense strength and value of Metaco's battle-tested technology and expertise in digital asset custody within the custodian and financial markets, globally, and is fully committed to supporting Metaco's continued growth as a leader in the space.
Strengthened by a much stronger capital base, Metaco will continue to operate as an independent brand and ring-fenced business led by its founder and CEO, Adrien Treccani, leveraging Ripple's scale, resources and established network to accelerate the execution of its product roadmap, and growth capabilities, while continuing to deliver superior experience to existing and future clients. As a non-regulated digital asset technology provider, Metaco remains fully aligned with its customer base, designing software infrastructure solutions fit for the stringent requirements of global custodians, sub-custodians and top-tier banks worldwide.