HSBC's global head of country management for securities services, Rafael Moral Santiago, was handed the first ever Global Custodian Industry Person of the Year award for Asia Pacific at a ceremony at Raffles in Singapore last night.
Now in its seventh year across the US, Europe and now Asia, Global Custodian's Industry Person of the Year award recognises the exceptional work of an individual over the past 12 months, who has made a significant impact both within their organisation and to the wider industry.
HSBC's Santiago took over a senior role within one of the region's largest custodians 12 months ago and has since hit a number of significant milestones both individually and with the organisation.
Overall, he boasts over 20 years' experience across securities services roles in the US, Europe and Asia, and the individual played a significant role in successes and mandate wins across the APAC and Middle East region during his relatively short tenure in the role.
More recently, Santiago was named global head of country management for securities services.
HSBC also picked up awards for its units in China and Kuwait on the night and was nominated for a total of seven accolades for its work in the likes of Taiwan, Indonesia, and its Orion initiative, further testament to the leadership of Santiago in the region. HSBC was also nominated for Asset Servicing Deal of the Year for its mandate from ETF Securities.
"This recognition speaks to the strength of HSBC's securities services franchise and the opportunity it affords, to both our clients and employees," said Santiago. "We have built a strong platform for growth – our global network has grown to cover more than 90 markets and we are in a leading position in many markets throughout Asia and Middle East. I am proud of the collective efforts of our team, as we work together to bring the best of HSBC to our clients through the full power of our network."
The award has a rich history and earlier this month, Hannah Elson, global head of custody at JP Morgan, received the accolade in London at The Savoy, while Roman Regelman of BNY Mellon received the recognition in 2022.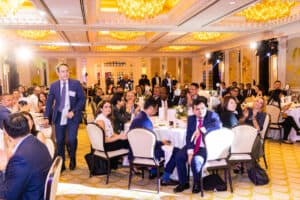 Previous winners of the award have also come from Northern Trust, Citi, Deutsche Bank, Intertrust Group and Digital Asset.
The Global Custodian team spend around five months compiling longlists, shortlists and then subsequently a final selection for Industry Person of the Year for each region, in what has now become a comprehensive and significant undertaking.
Given the many, many thousands of senior executives across asset servicing industry in Asia Pacific, Global Custodian would like to congratulate this year's recipient on winning a fiercely competitive award.