Global Custodian will be recognising 30 individuals who are set to shape the securities services industry of the future, as party of its 30th anniversary celebrations.
Candidates for this selection process are the people behind ground-breaking innovations, those using their positions to grow their business and benefit the wider industry, and the rising stars who could one day be leading the world's largest custodians and market infrastructures.
Nominations are now open for those who want to put themselves, or a peer, forward for consideration from our 30 esteemed judges, who will be asked to select from a final shortlist throughout the third quarter of this year.
The judging panel consists of distinguished independent industry experts, many of whom hold a place in the Global Custodian Hall of Fame. Their areas of expertise span across different regions, sectors and viewpoints, from former heads of securities services and CEOs of market infrastructures, to ex-chief operating officers of the world's biggest asset managers and sovereign wealth funds.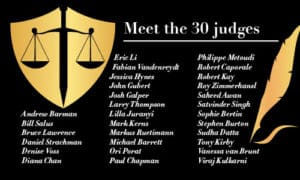 Securities services providers are operating in a rapidly-changing world, where client demands, regulatory challenges and technological developments will change both the role they play and the nature of their business.
Given the global nature of securities services, there will be hundreds – if not thousands – in the running to be included in this list, so while the final decision will be down to our experienced editorial team and an esteemed judging panel, we are inviting you to submit nominees who you believe would fit the criteria for this award with a short description why.
"In the same way the securities services industry is having to approach technology changes and client demands, Global Custodian is focusing on looking forward rather than back, as we mark our 30th anniversary," said Jonathan Watkins, managing editor of Global Custodian. "We want to find the top 30 people who are truly set to shape the industry of the future through the most extensive and scrutinising process possible, which is why we've called on 30 of the most established and renowned securities services experts in the world who have already played a part in shaping the industry to make the final decision."
The process
Nominations are now open through this link and will close on 28 June.
Criteria:
The individual must hold a position whereby they can influence the securities services industry.
The individual must be a part of a project, innovation or sector which holds the potential to impact the securities services industry of the future.
The individual must have some experience and knowledge of the securities services industry.
Once nominations are closed, a shortlist of 100 people will be published during Q3 2019, before our judging panel decides on a final 30. The chosen 30 will then feature in a commemorative magazine printed in November by Global Custodian and available digitally on www.globalcustodian.com.
Publication date: Q4 2019
For commercial enquiries surrounding this campaign and subsequent magazine and digital publication, please contact matt.aldred@globalcustodian.com or daljit.sokhi@globalcustodian.com.
For more information on the process, please contact: jon.watkins@globalcustodian.com