Senior Executive Vice President and CEO • Broker-Dealer Services and Alternative Investment Services • The Bank of New York Mellon •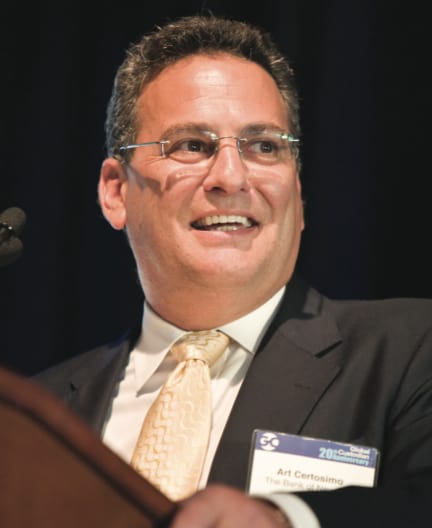 For such a palpable and patriotic son of the Garden State, it is ironic that Art Certosimo should have discovered the securities services industry in London rather than New York. It was 1985, and he was running the trade finance operations of the Chase Manhattan Bank from its then offices at Woolgate House in Basinghall Street.
"Our nostro reconciliations showed that the nostros of the bank were completely out of control, with lots of outstandings," Certosimo recalls. "When we finally investigated the cause, what do you think we found? It was contractual settlement date accounting, which was invented by Colin Grimsey and Robert Kay in global custody. We were giving the custody customers the money, but there was simply no follow-up to the outstanding debits and credits in the nostros after we credited and debited clients." The discovery ensured that within less than a year Certosimo was head of global custody operations. 
Fellow legend Colin Grimsey was then head of the sales and relationship management side of the global custody business in Europe, but the discovery of the chaos precipitated by the sales-led introduction of contractual settlement date accounting did not prevent the two men working harmoniously together. Besides, it coincided with the implementation of the decision to move the operations of the bank from London to Bournemouth. Certosimo was one of five people charged with choosing the destination and the site of what is now Chaseside, on the outskirts of the Dorset seaside town, and ensuring the transition was successful despite only half the workforce electing to come.
After 3 years in London he moved to Winchester so he could commute to Bournemouth and his wife to London, where she worked in the fashion industry. Certosimo recalls that although they enjoyed life in an English market town-their son Matthew was born there-it presented deeper problems of cultural adjustment than life in the metropolis. Attending a county cricket match as a spectator, Certosimo caught a ball that was hit for six. Being raised in the baseball tradition, where spectators are entitled to keep any ball they catch, Certosimo was mystified to find himself being barracked by the crowd after he placed the ball in his pocket. 
But one aspect of that period that Certosimo recalls with unadulterated pleasure is-unusually-his relationship with his boss. Fellow legend Vivian Eversole joined Chase from Bank of America in 1987 as head of technology and operations. Certosimo did not know it then, but reporting to Eversole was the beginning of one of the most important friendships of his life. Indeed, he acknowledges Eversole as one of the most influential forces in his career too.
"She was able to forge very close personal relationships with her key managers, to the point of being personally friendly with them without ever losing the ability to revert to being the boss and the business manager at a moment's notice and still make reliable and ethical business decisions," he says. "I used to look at that and think, 'That is difficult to do, but if you can do it, it is very powerful.' It is something that I decided that I wanted to do as well, and I believe that I have done so throughout my career."
But however much he admired and enjoyed the management style of Eversole, the nostro problem did not go away. In fact, by 1987 it was still so bad that Mike Esposito, then controller of the Chase Manhattan Bank and eventually its CFO, came to Bournemouth to grill Certosimo and Eversole. "He looked at me and Vivian and said, 'You have 6 months to fix this nostro problem or this bank has never heard of global custody,'" Certosimo recalls.
One of the might-have-beens of the history of global custody is what would have happened if Certosimo and Eversole had failed. They did not, and by the late 1980s the global custody business at Chase was on a roll. Their fellow legend Marsh Carter, drafted in from a branch managership in Rochester to replace Bill Kaufman as head of both domestic and global custody at Chase, is described by Certosimo as "Mr. Marketing and Mr. Customer Service." Certosimo sees his leadership as the time when Chase pioneered the concept of client service in the industry, and certainly the success of the bank in the global custody surveys of that era suggest it was well ahead of the competition in that respect. 
"Marsh taught me a lot about business leadership, but the most important thing he taught me was the power of marketing," Certosimo says. In fact, it was the success of his high-touch, marketing-led global strategy at Chase that brought Carter to the attention of fellow legend Bill Edgerly at State Street, which Carter joined in July 1991 as CEO-in-waiting. Vivian Eversole succeeded him as head of global securities services, but it was in fact Carter who brought Certosimo back to New York in 1990 to create the worldwide global custody customer service network. 
"What we called customer service was really service delivery," Certosimo recalls. "We implemented global custody service centers all over the world. They were the middle offices, working off the Bournemouth back office. It remained the Chase global custody service framework for many years." Certosimo invented the first scorecard, by which customers could rate the performance of the bank in a quantitative way-and which ultimately formed the basis of the first, RFP-based survey of global custodians by Global Custodian magazine in 1991. His initial responsibilities including running the domestic US sub-custody operations-Chase did not finally exit the sub-custody business until after the Chemical takeover-but he gradually took on a greater range of tasks, including the performance analytics prepared by the Chase consultancy group, and completed a short stint as a senior relationship manager on the IBM account.
But in 1994, after 16 years with Chase and just 5 weeks before the merger with Chemical was announced, Certosimo was finally presented with an opportunity that tempted him to leave the bank. "In 1994 Morgan Stanley Asset Management came to me and asked me to be part of a team that would take the business from a Barton Biggs boutique to a large asset management firm," Certosimo explains. "They needed a middle office, and they wanted me to build it and run it."
In those days, middle office meant customer service, performance analytics and marketing support, so Certosimo was ideally equipped to deliver. He stayed at Morgan Stanley for 4 years. What he learned in those 4 years was the value of managing peers as well as superiors and subordinates. "Morgan Stanley had this philosophy of getting the best people in the industry and, by letting them focus exclusively on their area of expertise, allowing them to create spheres of excellence in their own area that made them the best in the industry," Certosimo recalls. "I learned very quickly that it was all about your impact on the organization as an individual and not how many people you had working for you. 
At Chase, the more people you had, the more senior you were, so you grabbed as much territory as you could to self-propel yourself up the organization chart. It was quite the opposite at Morgan Stanley, where you were judged on how few people you had. Portfolio managers, who were top of the list at Morgan Stanley Asset Management, had nobody working for them. Operations people, who had everybody working for them, were at the bottom of the list. Morgan Stanley had an organization built on the star system whereas Chase was built on the team system." 
The sporting metaphor is an apt one because Certosimo imbibed much of his management philosophy on the sports field.
Though he reckons Chase taught him to manage his subordinates and his superiors well (while straining his relationships with his peers through turf wars) and learned from Morgan Stanley how to manage his peers (who were as expert in their field as he was in his), Certosimo counts what he learned from his father (a football coach) as the root of his most fundamental beliefs about success in business. What he re-learned at Morgan Stanley was only what he had learned from his father at a much earlier age: teams of team players are more successful than teams of stars. Certosimo speaks unusually warmly of his parents. "By far the greatest influence over my life and career are my mother and father," he says. "Both of them were huge team players."
They raised their family in Oradell, New Jersey, where Certosimo senior was a history teacher, athletic director and coach of the River Dell High School football team, where he worked with football legends such Bill Parcells of the New York Giants (a graduate of River Dell High) and Charley Casserly of the Washington Redskins. "I grew up listening to my dad giving motivational speeches, helping and encouraging people, always talking about the positives and getting young men to perform well beyond even their own expectations," Certosimo recalls. "My dad was a tremendous role model and motivator. That was probably where I got all of my core management beliefs and especially my belief in people. My mom, on the other hand, was the eternal optimist. She saw the glass as half-full even if it was completely empty. That gave me a can-do, positive attitude that held there was no obstacle too great to prevent you or your team succeeding." 
Unsurprisingly, Certosimo went to Rutgers primarily to play football. He not only played college football for four years but also gained a B.S. in Business Administration (which he later supplemented with an MBA from Fairleigh Dickinson University). On graduation in 1977, Certosimo was convinced his own future lay in football coaching, and perhaps teaching as well, and actually did both for a year at River Dell High. It was Bob Heaney, the father of a boy he raised that season from average to all-league player who first suggested to Certosimo, at the end-of-season awards dinner, that he should consider a career on Wall Street.
As it happens, the late Don Parcells-brother of the more famous Bill-worked at the same bank. It was called Chase Manhattan. An interview for Certosimo with one of the heads of operations there followed shortly afterwards. It did not go well. "He said, 'What do you want to do?'" Certosimo recalls. "I said, 'I want to coach football.' He said, 'We do not have a football team.' I said, 'Do you have anything that looks like a football team?' He said, 'Yes, we have an operations area. Since you are a good coach, you could probably be a good supervisor.' That was the beginning of my banking career." As it happens, that career did not start at Chase but at Chemical Bank, where Heaney secured a temporary job for Certosimo until the right opening was available at Chase. 
By the time he arrived at Bank of New York 20 years later, Certosimo had finally understood that it was as important to be a team player in business as it was in football. "I was always good at managing up and down," Certosimo says. "But when I arrived at Bank of New York from Morgan Stanley, I was determined to be a fully rounded manager and really focus hard on ensuring that I was seen as a team player by helping my peers succeed as much as myself."
Asked by Bank of New York chairman and CEO Tom Renyi what it would take to lure him to the bank, Certosimo cheekily asked to be offered the chance to run a vertically integrated, international business. Renyi, to his credit, took the chance of offering him leadership of the broker-dealer services group at the bank, reporting initially to Ralph Mastrangelo and latterly to fellow legend Tom Perna.
Certosimo relished the opportunity to see the securities industry from the one perspective he had not yet enjoyed-the sell side-but in 1998 broker-dealer clearing was not in truth the sexiest business at Bank of New York, let alone the world. It consisted, essentially, of overnight government bond clearance on behalf of investment banks, plus tri-party securities financing. Neither was fast growing. But on  Sept. 11, 2001, the business found itself at the epicenter of the terrorist attacks on the World Trade Center, which temporarily disabled the Bank of New York along with most of downtown Manhattan. As one of the two major providers of settlement liquidity to the overnight repo markets, the disabling of the Bank of New York prompted a lengthy inquiry by the Federal Reserve into the possibility of replacing the commercial banks with a public utility.
It was the recovery of the bank from that potentially lethal threat, his willingness to invest many hours to persuade the central bank that the risk of future failure was being eliminated and his consummate skill at keeping deeply unhappy broker-dealer clients fully engaged that first positioned Certosimo as a coming man at the Bank of New York.
Broker-dealer clearing services also provided Certosimo with his first opportunity to run a banking business from top to bottom. Having learned from Tom Perna the importance of getting the pricing right, Certosimo has always paid as much attention to margin as revenue, but in his 10 years in charge of the business he has nevertheless managed to double the annual rate of growth in revenue. "As I was learning to run businesses, Tom Perna was a tremendously positive influence," Certosimo says. "Working for Tom taught me how to make the tough business decisions, when you have to stand your ground with the client without losing your reputation for service and responsiveness." But what really made broker-dealer services hum was something Certosimo developed entirely on his own initiative: a culture of innovation. "I had everybody focus on innovation," he explains. "Do new stuff, I said. Do not just accept the same old products that are easy to run. Get out there with the customers and understand what their needs are."
It was time with the customers that saw Goldman Sachs work with the Bank of New York to implement the first equity repo tri-party program in Europe in 1998. Part of the price of that success was to give Goldman an exclusive for the first 12 months. But equity tri-party was for the next seven years the fastest growing product at the Bank of New York, and one of the most profitable, for it capitalized on the existing network of the global custody arm of the bank. Out of it grew the global collateral management and derivatives margin management services now offered by the Bank of New York. It is hard to think of a service more perfectly attuned to the times in which banks, investment banks and hedge funds now live. 
So it is fitting that it was Certosimo who began two years ago to reshape the Bank of New York to cater for their needs by adding alternative investment services to his responsibilities as head of broker-dealer services. "We recognized at that time that the hedge fund industry and the broker-dealer industry were merging together through prime brokerage services," he explains. "It made a lot of sense that the person who was running the deepest relationships with the prime brokers should also run the deepest relationships with the hedge funds." 
But Certosimo is not the sort of man who credits himself with great strategic vision. "As I look back over my career, I can see that I have really done is seize the opportunities created by crisis," he says. "The nostro problems. The move to Bournemouth. The recovery from 9/11. And then, in this last financial crisis, helping the broker-dealer and hedge fund industries navigate their way through the interconnected problems in the credit and money markets. I believe the Bank of New York Mellon emerged stronger from the crisis. We were the bank that delivered when the chips were down and our clients needed us the most."
The performance of the broker-dealer clearing and alternative services group in the fall of 2008 certainly convinced BNY Mellon CEO Bob Kelly. In February, Art Certosimo was appointed to the executive committee of the bank. That makes him one of the 17 most important people out of the 42,000 that work at the Bank of New York Mellon.
Not bad for the man who wanted to be a football coach.