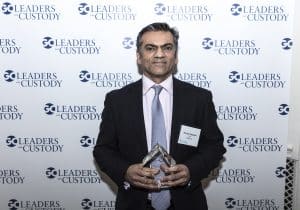 Citi's head of custody and fund services for EMEA, Pervaiz Panjwani, took home Global Custodian's Industry Person of the Year award for 2018 following a busy day of voting.
He was handed the prize at Global Custodian's Leaders in Custody awards at The Savoy in London.
Over 6,000 votes were cast in the 12-hour window as Panjwani emerged ahead of nominees from State Street, Euroclear and BNY Mellon in a tight contest.
Panjwani was at the core of Citi's double-digit growth in custody and fund services during 2017, while also spearheading a number of new launches.
He played a major role in the launch of big data platform Citi Velocity Clarity and a new fund administration business for ETFs in Europe, and also developed a new online thought leadership platform.
Panjwani's victory capped off a big night for Citi as it also took home a Leading Client award in our Agent Banks in Emerging Market category for Central and Eastern Europe, along with an innovation award for Proximity, its new digital proxy voting platform.

"Proxymity is a prime example of real innovation with potential to disrupt an established process that has been riddled with manual and outdated procedures. It's also great to see results from a mix of both Citi's custody team and its Ventures team, which serves as template for the rest of the securities services industry when looking to roll out new initiatives," said Jonathan Watkins, managing editor, Global Custodian.
Sanjiv Sawhney, global head of custody and fund services, Citi was also inducted into the Global Custodian Hall of Fame with a GC Legend award.
His individual accolade meant that Citi went home with four crystals on the night, making the custodian the biggest winner on the night.
"We are thrilled to receive this prestigious industry recognition," said Okan Pekin, global head of prime, futures and securities services, Citi.

"As we continue to build on the strong momentum of our franchise, these awards speak to the successful execution of our strategy to invest in talent and technology while leveraging the breadth and depth of our network to provide our clients with truly innovative and consistent solutions across the full spectrum of investment services."