UBS has agreed to take over Credit Suisse in a deal worth $3.25 billion, which is moving forward without the approval of shareholders under emergency ordinance issued by the Swiss Federal Council.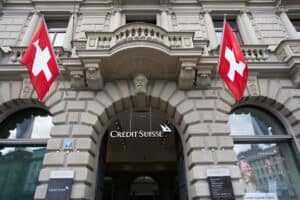 The Swiss National Bank said on Sunday evening that the takeover provides a solution "to secure financial stability and protect the Swiss economy in this exceptional situation". 
Credit Suisse explained that negotiations took place during the weekend leading up to the signing of the merger agreement and that the two banks concluded that it would be in the best interest of their shareholders and their stakeholders to enter into the merger where UBS would be the "surviving entity". 
The SNB explained that both banks have unrestricted access to the SNB's existing facilities, through which they can obtain liquidity from the national bank. 
"In addition, and based on the Federal Council's Emergency Ordinance, Credit Suisse and UBS can obtain a liquidity assistance loan with privileged creditor status in bankruptcy for a total amount of up to CHF100 billion [$108.35 billion]," SNB added. "Furthermore, and based on the Federal Council's Emergency Ordinance, the SNB can grant Credit Suisse a liquidity assistance loan of up to CHF100 billion [$108.35 billion] backed by a federal default guarantee." 
A flurry of news updates over the weekend followed the announced from Credit Suisse on Friday that it was taking "decisive action to pre-emptively strengthen liquidity and announces public tender offers for debt securities".
This move included intending to exercise its option to borrow from the Swiss National Bank (SNB) up to CHF50 billion [$54.16 billion] under a covered loan facility as well as a short-term liquidity facility, along offers by Credit Suisse International to repurchase certain OpCo senior debt securities for cash of up to approximately CHF3 billion [$3.25 billion]. 

Swiss regulators, the central bank and the two parties involved then intervened over the weekend as the decision bypassed a shareholder vote – sidelining the likes of Saudi National Bank and the Qatar Investment Fund from having a say the decision – and on Sunday the Swiss Federal Department of Finance, the Swiss National Bank and FINMA asked Credit Suisse and UBS to enter into the merger agreement.  
Under the terms of the all-share transaction, Credit Suisse shareholders will receive 1 UBS share for every 22.48 Credit Suisse shares held, equivalent to CHF0.76/share for a total consideration of CHF 3 billion [$3.25 billion].  
Reports from various media outlets over the weekend had suggested an initial bid from UBS of $1 billion, while BlackRock were also touted as potential suitors – something which the asset management giant refuted quickly in a public statement. 
The fact that negotiations were concluded over a weekend and that the two banking giants will merge without shareholder approval in such a manner will likely go down as a moment remembered throughout the financial services world for decades to come. 
More reaction to follow over the week.