Global Custodian has rescheduled its annual Leaders in Custody awards to 3 September 2020, in response to the global spread of Coronavirus (Covid-19).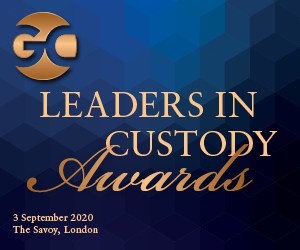 Our priority is the health and wellbeing of those in attendance at our events. After discussions with key stakeholders we have taken the decision to move the event to a time where we believe the risk will have significantly lowered.
Leaders in Custody is a celebration of the achievements of the industry and a recognition of global excellence, and this should be inclusive of all corners of the world. We made a very early decision that even if a small percentage of those being honoured were unable to attend then we would try to reschedule rather than have any form of reduced celebration.
The awards have always been a fantastic way to start the year; however, we now hope the Leaders in Custody awards on 3 September can serve as a warm welcome back from a summer break and an opportunity to kick start the second half of the year with the securities services community.
Given that the winner's names are already on their respective crystals, rest assured that the shortlists and recipients of these honours will not change, and the survey and editors' choice awards will still recognise achievements from 2019 and the early months of 2020. 
We look forward to seeing you all in September and wish you all the best of health.
Jonathan Watkins
Managing Editor, Global Custodian