The good, the bad and the ugly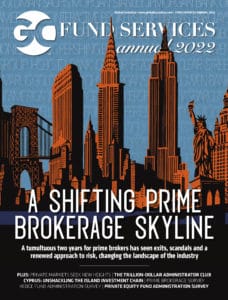 The past 12 months have been full of dramas and developments for an industry adapting to a new environment post-Covid, post-Archegos and post-memestock. Yet, if you exclude some short-term macroeconomic-induced pain, the alternatives industry is still flourishing and leaning on their service providers more than ever before.

In the 1966 spaghetti western, The good, the bad and the ugly, three gunslingers are willing to sacrifice it all to find $200,000 worth of gold – which in modern day terms would just about pay off a winter's heating bill on a small street.  
However, despite inflation rendering the sum less worthy of risking one's life, the notion of the trio representing the good, the bad and the ugly, lends itself to encapsulating the global fund services environment in 2022.

The good – well, among the top dozen custodians, fund services revenues last year rose 7% to $11 billion (or 55,000 boxes of Confederate gold) – the standout segment in another flat year of income from custody and asset servicing. Independent administrators are also enjoying the purple patch, with the biggest getting bigger (page 40) and plenty of new entrants coming into the market to service smaller funds.

The influx of private markets funds and growing need for hedge funds to outsource as their businesses become more complex – through diversification of asset classes, client demands, operations and regulatory burdens – serves as good news for an industry on standby to lend a helping hand.
Elsewhere there are opportunities aplenty in supporting clients through ESG data and analytics services, reporting solutions, and in the prime brokerage space, while exits and scale backs are opening the door for some service providers to scoop up new clients and grab market share.  
The bad – it might not be the most enthralling topic, but talent is the top of minds for funds and service providers alike at this moment in time. Funds are struggling to attract and retain talent, while service providers are finding a limited pool of skills in areas such as private markets, data and analytics and technology due to high demand and dearth of personnel in the space.  
Elsewhere, the SEC's Gary Gensler is on an unrelenting pursuit of transparency across financial markets, with private funds the latest to fall into his scope. His proposals to up the reporting requirements on funds comes with a view to understand exposures, open positions and borrowing and financing arrangements with counterparties, among others. Also meandering into 'the bad' section, could be a lack of progress on the ESG front with regards to regulation, data and standards; while client demands around technology, analytics and reporting are accelerating at such a pace that consistent investment is needed by service providers. These will be classed publicly as "nice problems to have" but still represents a cost and a constant monitoring from service providers.
The ugly – Where to start? The macroeconomic and geopolitical turmoil perhaps speaks for itself but this is impacting both funds and prime brokers, the latter of which are presented with consecutive stress tests and are reassessing their risk appetite after a tumultuous couple of years. The impact of Covid, the meme stock saga and the collapse of Archegos have left lasting scars on this industry as unprecedented events are suddenly becoming, well, precedented. In the prime brokerage world we are seeing exits from major players and even offloading of clients, as the landscape completely shifts (page 20).  
There is certainly no shortage of dramas and events in the fund services world, which has become fast-paced and opportunity filled for prime brokers and administrators alike. The Mexican standoff between the good, the bad and the ugly in this space is keeping service providers on their toes while their eyes shift between their risk management and lapping up new business as funds lean on these third parties more than ever before. Fortunately, most fund servicers are thriving in spite of the challenges, rising to the occasion no matter their size to get their hands on the gold – which fortunately can be shared by many, not just the last man standing. 

We hope you enjoy the issue.