Global Custodian is delighted to announce the introduction of its Leaders in Custody awards for Asia Pacific, to be held at Raffles in Singapore on 25 May.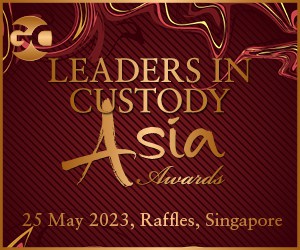 The ceremony will honour securities services providers across the Asia Pacific region who have excelled in Global Custodian's Agent Banks surveys, along with a number of Editors' Choice, Individual and Innovation awards segments.  
Our Innovation awards recognise truly ground-breaking ideas or visions from the securities services industry and you can nominate through this link here for any initiatives stemming from the Asia Pacific region. There will also be a handful of categories covering the Middle East.
The introduction of the event will compliment Global Custodian's awards in London and New York, currently held in May and November, respectively. 
"The Asia Pacific region is an exciting region for securities services, with growth, innovation and market developments occurring each year," said Jonathan Watkins, managing editor, Global Custodian. "The uptick in participation and number of service providers in our surveys in Asia Pacific countries is a testament to this, and we are incredible excited to recognise those custodians and fund services providers through this dedicated awards evening." 
The survey awards will recognise outstanding achievements across the region for multimarket providers, along with agent banks in individual markets. Our research team has also highlighted outstanding performers as rated by client type – including custodians, offshore clients and asset managers. 
There are multiple nominations for the likes of BNP Paribas, Deutsche Bank, DBS, Standard Chartered and BNP Paribas across all categories, while Mizuho, SBI-SG and ICICI also feature in more than one category.  
Other nominated providers include Citi, UBS, National Bank of Egypt and QNB Alahli. 
In the coming weeks, Global Custodian will also announce a shortlist for Editors' Choice awards.  
Congratulations to all those nominated. 
Agent Banks awards  
Multimarket Providers – Asia
BNP Paribas 
DBS Bank  
Standard Chartered Bank 
Agent of the Year
BNP Paribas (India)  
DBS Bank (Hong Kong)  
SBI-SG (India) 
Client Service and Relationship Management
DBS Bank (Hong Kong)  
Mizuho Bank (Japan)  
Standard Chartered Bank (China) 
Best Provider – Singapore
DBS Bank  
Standard Chartered Bank 
UBS  
Best Provider – Hong Kong
BNP Paribas  
DBS Bank  
Standard Chartered Bank 
Best Provider – India
BNP Paribas  
DBS Bank
SBI-SG (India)
Best Provider – China
BNP Paribas  
DBS Bank
Standard Chartered Bank  
Client Segment Awards 
As Voted By Custodians – Overall
Deutsche Bank  
HSBC 
Standard Chartered Bank  
As Voted By Custodians – China
DBS Bank
HSBC 
Standard Chartered Bank  
As Voted By Custodians – Indonesia
Deutsche Bank  
HSBC 
Standard Chartered Bank  
As Voted By Custodians – Pakistan
Citi  
Deutsche Bank 
Standard Chartered Bank  
As Voted By Custodians – Taiwan
HSBC  
JP Morgan 
Standard Chartered Bank  
As Voted By Offshore Clients – India
Deutsche Bank (India) 
Edelweiss (India)  
SBI-SG (India)  
As Voted By Asset Managers – China
BNP Paribas 
ICBC
Standard Chartered Bank  
As Voted By Asset Managers – India
Deutsche Bank  
ICICI Bank
SBI-SG 
As Voted By Regional Clients – Major Markets
DBS Bank (Singapore)  
Mizuho Bank (Japan)  
Standard Chartered Bank (Hong Kong) 
As Voted By Regional Clients – Emerging Markets 
Deutsche Bank (India) 
ICICI Bank (India)  
Standard Chartered Bank (China)  
Middle East Awards  
Egypt
Citi 
National Bank of Egypt  
QNB Alahli  
 

Frontier Markets 
HSBC (Kuwait)  
Societe Generale (Tunisia)  
Standard Chartered Bank (Tunisia)