Global Custodian is pleased to announce the shortlists for its annual Leaders in Custody awards being held in London at The Savoy on 4 May 2022.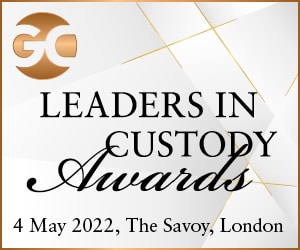 The evening will recognise the achievements of the global securities services industry, with awards celebrating global custodians, sub-custodians, technology providers and market infrastructure providers.
The date of the event has been pushed to 4 May 2022 in an effort for our global audience to attend as we are aware of the different travel situations of our attendees from across the world.
As always, the celebrations will honour top performers from Global Custodian's Agent Banks in Emerging and Major Markets surveys, along with Editors' Choice awards recognising areas of innovation and achievements the research does not traditionally cover.
Our Editors' Choice awards this year will be our biggest yet and will feature a new award for Digital Assets Initiative of the year, to be contended by incumbent custodians.
There is also an opportunity to nominate some of the industry's brightest ideas for our Innovation awards categories, which you can do by clicking here.
Individual awards including our Lifetime Achievement award, GC Legends and Industry Person of the Year will be announced at a later date.
"We're delighted to be back at The Savoy after a two-year break due to the pandemic," said Jonathan Watkins, managing editor, Global Custodian. "This year is set to be the biggest London awards yet, as we have significantly expanded our Editors' Choice categories to include initiatives from across the global custody industry and recognise some of the exciting projects in the digital asset space.
"We're also excited to be welcoming the top performers from our annual surveys and continue to thank all participants and respondents who have supported that research over the past 32 years."
In addition this year there will also be a set of Advanced Performance Awards (APAs) and Annual Excellence awards announced on the night. APAs are awarded by the surveys team for notable achievements in the latest survey set that fall outside the service category framework, while Excellence awards recognise those with average survey scores across all our categories above 6.00 plus 2/3 of single category scores above 6.00.
Leading the way this year with the most nominations is BNP Paribas Securities Services with 10, while SIX boasts eight and Standard Chartered is in the running for six awards.
State Street is in line for five, Euroclear for four honours and those with the possibility of picking up three include BNY Mellon, Mizuho Bank, Citi, Northern Trust, Deutsche Bank and Sberbank.
Should you wish to attend the awards, please contact daljit.sokhi@globalcustodian.com. For survey related awards questions contact richard.schwartz@globalcustodian.com and for Editors' Choice, or any editorial-related queries, contact jon.watkins@globalcustodian.com.
The full shortlist can be found below, or through this link.
Editors' Choice

Asset Servicing Deal of the Year
FIS – Franklin Templeton
State Street – Connecticut Retirement Plan and Trust Funds (CRPTF)
JP Morgan – Danske Invest
Northern Trust – Local Government Pension Scheme (LGPS) funds
FinTech of the Year
HQLA
x
Proxymity
Saphyre
Taskize
Market Infrastructure Project of the Year
Clearstream – D7
CLS – Convergence
DTCC – Project Ion
Euroclear – CBCD tests
Best New Asset Servicing Project

BNY Mellon – ESG data analytics system for collateral management clients
Broadridge – Distributed ledger repo trading platform
Citi – Data solution with Snowflake
State Street – Peer-to-peer solution
Asset Servicing Partnership of the Year
BNY Mellon – SNB Capital
Citi – Snowflake
Northern Trust – Microsoft Azure
State Street – BlackRock, for M&G middle-office
Digital Assets Initiative of the Year
Northern Trust/Standard Chartered – Zodia
SIX Digital Exchange
Societe Generale – SG Forge
State Street Digital
Global Custodian of the Year
BNY Mellon
Citi
JP Morgan
State Street
 Agent Banks in Major Markets

Major Markets – Overall, Large Clients
BNP Paribas
Securities Services
HSBC
Mizuho
 Bank


Major Markets – Single Market, Large Clients
BNP Paribas Securities Services (France)
Euroclear (ICSD)
SIX Group (ICSD)
Agent Bank of the Year
BNP Paribas Securities Services,
Germany
Mizuho Bank, Japan
SIX Group,
Switzerland

Client-facing (Relationship Management and Client Service)
Euroclear Bank,
ICSD
Mizuho Bank,
Japan
SIX Group,
Switzerland
Technology & Data Services
SEB, Denmark
SIX Group,
Switzerland
SIX Group,
ICSD
Asset Servicing
BNP Paribas Securities Services,
Hong Kong
Euroclear Bank,
ICSD
SIX Group,
ICSD/Switzerland
Account Management
BNP Paribas Securities Services,
Hong Kong
SEB,
Denmark
SIX Group,
ICSD/Switzerland
Agent Banks in Emerging Markets

Emerging Markets – Overall, Large Clients
BNP Paribas
Securities Services
Deutsche Bank
Standard Chartered
 Bank


Agent Bank of the Year
Eurobank,
Greece
Sberbank, Russia
Standard Chartered Bank, China
Client-facing (Relationship Management and Client Service)
BNP Paribas Securities Services,
Greece
BNP Paribas Securities Services,
Poland
Deutsche Bank
,
Turkey

Technology & Data Services
BNP Paribas Securities Services,
China
Deutsche Bank
,
UAE
Standard Chartered Bank,
China
Asset Servicing
BNP Paribas Securities Services,
China
RMB Custody,
South Africa
Standard Chartered Bank
,
China
Account Management
Sberbank,
Russia
Standard Chartered Bank,
China
SGSS,
Russia
Asset Safety and Risk Management
Eurobank,
Greece
Sberbank,
Russia
Standard Chartered Bank,
China