Global Custodian is pleased to announce the first set of shortlists for its annual Industry Leaders Awards to be held in New York at Chelsea Piers on 16 November.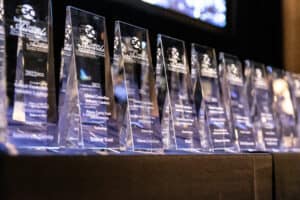 The evening recognises outstanding performers from our Prime Brokerage, Hedge Fund Administration, Private Equity Administration and Exchange-Traded Fund Administration surveys. New for this year is a set of awards deriving from our first ever Outsourced Trading survey as well as two regional custody awards for North America and Latin America respectively. 
In addition to the survey award shortlists, our Editors' Choice shortlists will be released in the coming days. 
On the night, individual awards will also be handed to the newest entrants to our Hall of Fame, along with the prestigious Lifetime Achievement award. 


PRIVATE EQUITY FUND ADMINISTRATION (PEFA) SHORTLISTS 
PEFA of the Year 
Artex Fund Services 
SS&C 
Ultimus 
PEFA: Client Service 
Artex Fund Services 
Ultimus 
Trident Trust 
PEFA: Capital Drawdowns and Distributions 
CSC 
SS&C 
Ultimus 
PEFA: Reporting  
Artex Fund Services 
SS&C 
Trident Trust 
PRIME BROKERAGE (PB) SHORTLISTS 
PB of the Year 
Clear Street 
JonesTrading 
Morgan Stanley 
PB: Best Provider – Small-Cap Clients 
CIBC 
Morgan Stanley 
Pershing 
PB: Best Provider – Mid-Cap Clients 
BMO 
CIBC 
Pershing 
PB: Best Provider – Large-Cap Clients 
Cantor Fitzgerald 
CIBC 
JP Morgan 
PB: Overall Excellence (% of category scores at 7.00) 
CIBC 
JonesTrading 
Morgan Stanley 
HEDGE FUND ADMINISTRATION SHORTLISTS 
HFA of the Year 
Citco 
Opus 
Trident Trust 
HFA: Client Service 
Citco 
SS&C 
Trident Trust 
HFA: Reporting 
Citco 
Opus 
U.S. Bank 
HFA: Fund Accounting 
Citco 
Opus 
U.S. Bank 
NORTH AMERICAN OUTSOURCED TRADING SHORTLISTS 
Outsourced Trading: Coverage and Execution 
Jefferies 
JonesTrading 
Meraki Global Advisors 
StoneX 
Outsourced Trading: Operations and Post-Trade 
Cowen  
JonesTrading 
Meraki Global Advisors 
StoneX  
Outsourced Trading: Client Services and Relationship Management 
Jefferies 
JonesTrading 
Meraki Global Advisors 
Northern Trust 
ETF ADMINISTRATION (ETFA) SHORTLISTS 
ETFA of the Year 
JP Morgan 
RBC 
Ultimus 
ETFA: Client Services 
JP Morgan 
RBC 
Ultimus 
ETFA: Reporting 
Citi 
HSBC 
RBC 
ETFA: Basket Services 
CIBC Mellon 
Citi 
Ultimus 
ETFA: Securities Lending 
CIBC Mellon 
JP Morgan  
State Street 
CUSTODY SHORTLISTS 
Agent Bank of the Year: North America 
BBH 
BNY Mellon 
Mitsubishi UFJ Trust and Banking Corporation 
Agent Bank of the Year: Latin America 
BNP Paribas 
Citi 
Santander Caceis