Global Custodian is pleased to reveal the four nominees who have been shortlisted for the annual Industry Person of the Year award, recognising individuals who have gone above and beyond in their role over the past 12 months.
Now in its sixth year, the accolade will be handed out during the annual Leaders in Custody awards to be held on 4 May at The Savoy in London.
The honour is handed out twice a year – in London during May for custody, market infrastructure and technology, and November in New York for fund services.
Previous winners of the award have come from Arcesium, BNY Mellon, Northern Trust, Citi, Deutsche Bank, Intertrust Group and Digital Asset.
Given the many, many thousands of senior executives across the securities and fund services industry, just making the shortlist is an incredible accomplishment, so Global Custodian would like to congratulate all of this year's nominees. 
Staffan Ahlner, State Street
After 23 years with BNY Mellon and a name synonymous with the collateral management space, Staffan Ahlner joined State Street with big expectations. A year and a half in, and it's safe to say he has delivered.
Ahlner is the global head of Collateral+, a part of the funding and collateral solutions group at State Street, that has risen to prominence in its relatively short lifespan. At a time when the uncleared margin rules (UMR) have hit buy-side firms, Ahlner and team responded to client demand – maybe even necessity – with the launch of tri-party services, marking the custodian's first venture into the space.
The custodian set the scene for the introduction of services around the rules with a survey back in September 2020 – just a few months before Ahlner joined – which found that the vast majority were still majorly unprepared for the requirements.
Since then, Collateral+ has gone operational with Acadia's Initial Margin Exposure Manager (IMEM) and Margin Manager (MM) service, along with DTCC and other FinTechs. The custodian has also partnered with Cassini Systems to add pre- and post-trade optimisation and margin analytics capabilities to its Collateral+ service.
Meanwhile the roadmap for its tri-party service also included plans to extend the tri-party service to securities lending and repo.
Ahlner is a well-known name in the collateral management space, but after two decades of a familiar setting is already thriving in his new environment.
"I've been running tri-party for 22 years, but building a business like this is truly exciting," said Ahlner, to Global Custodian back in September 2021. "It fits into the full strategy of State Street under the theme of giving clients the complete full set, with an open architecture model through connectivity to various vendors and post-trade services. Instead of onboarding a number of vendors, we can provide collateral through our own tri-party and manage the operational to receive collateral through our own tri-party service or other tri-party agents."
Dean Little, Proxymity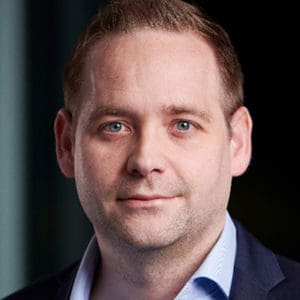 In 2019 when Global Custodian was celebrating its 30th anniversary, a roundtable of senior industry executives gathered in London to discuss – among other topics – innovation. During the event, Citi's Sanjiv Sawhney mentioned the custodian's Proxymity initiative as an example of innovation with the sheer mention of the name leading to plaudits from the bank's peers who unanimously praised the digital proxy voting platform. In May 2020, some of those players were able to benefit from Proxymity as it spun out of Citi following a $20.5 million funding round from BNY Mellon, State Street, JP Morgan, Clearstream, Computershare, Deutsche Bank and HSBC, as well as Citi itself.  
While the backstory shows a rare combination of innovation and speed in the securities services industry, it's for the past 12 months which co-founder Dean Little is being recognised by Global Custodian.
Proxymity has more than quadrupled its numbers in staff and onboarded some of its biggest backers. The FinTech transitioned Citi's and Deutsche Bank's business onto the platform, before JP Morgan became the third custodian to connect to Proxymity in October, initially in France and Belgium, with plans to go live in Australia and New Zealand ahead of 2022 proxy season. 
Since then, announcements have come thick and fast, with HSBC and BME joining the platform and news of a Series B funding totalling $31 million. 
The platform launched out of Citi's innovation lab network and D10XSM programme and is – by consensus – one of the big FinTech success stories of the securities services industry over the past year.
Jennifer Peve, DTCC
DTCC has been at the forefront of some of the biggest moves and talking points over the past 12 months and one of the most prominent figures in its initiatives has been Jennifer Peve, managing director, head of strategy and business development. Peve took on the position in June 2021 and has played an integral role in DTCC's digital product development and strategic partnerships and alliances.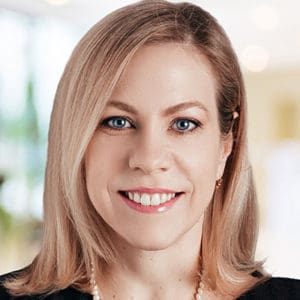 One of her main projects has been a new platform aimed at improving the issuance, transfer and servicing of private market securities through tokenisation. The Digital Securities Management (DSM) platform has potential to deliver the concept of tokenisation to an illiquid market, something that's been discussed in the securities markets frequently in recent years.

DTCC will look to deliver a solution that serves the whole industry by offering common market infrastructure and standards across private markets.

In addition – amid all the talk about the shift to T+1 in the US – DTCC has said its alternative settlement platform that leverages distributed ledger technology (DLT), Project Ion, is set for launch this year after demonstrating the viability of supporting both T+1 and T+0 cycles.
Project Ion is specifically modelled around a netted T+0 settlement cycle — but capable of supporting T+2, T+1, T+0 or extended settlement cycles.
Under Peve's guidance, the DTCC has quickly transformed itself into one of the most forward-looking infrastructures in the securities space.
Roman Regelman, BNY Mellon
Global Custodian's first ever repeat nomination for the Industry Person of the Year, Roman Regelman continues to push the boundaries of innovation in the securities services sector. Through partnerships, investments and talent additions, Regelman's roadmap to positioning BNY Mellon at the top of the digital league table in the custody world is unrivalled.
Regelman revealed to Global Custodian in December 2021 that the custodian had made 36 FinTech investments, an impressively high number. BNY Mellon has invested in Fireblocks – a digital asset custody, transfer and settlement platform – earlier this year in a series C funding, with the crypto outfit then going from strength-to-strength in the following months as its valuation soared. Other moves have included the backing of data and analytics start-up Quantexa, an investment in collateral mobility platform HQLAx and a partnership with New Jersey-based start-up Saphyre.
In July this year, BNY Mellon also agreed to acquire fund management technology provider Milestone Group, in what has been a widely commended move to bolster its digital solutions capabilities and add OCIO [Outsourced Chief Investment Officer] services, cash allocation and fair value control solutions to the existing suite of NAV solutions. 
More recently, Regelman's team struck a partnership with European asset manager Amundi to ensure trustee controls and compliance monitoring for depositary and fund administration duties.
Following his nomination for this award in 2019, Regelman's digital strategy continues to impress Global Custodian's team and earn him plaudits across the industry.