Global Custodian is pleased to reveal the Editors' Choice shortlists for its inaugural Leaders in Custody awards for Asia Pacific, to be held at Raffles in Singapore on 25 May. 
The Editors' Choice categories cover the areas of the market not reached by our annual surveys, primarily covering global custodians, fintechs and market infrastructures through recognising products, projects and innovation.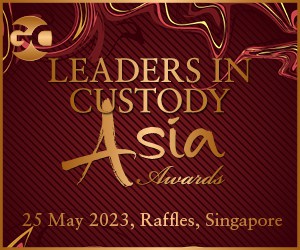 All nominations are for those organisations with roots in the APAC region, or servicing clients, launching projects or collaborating throughout Asia, Australasia, or – in only a handful of cases – the Middle East. 
There are multiple nominations within the Editors' Choice categories for Citi, DBS, Euroclear, FNZ, HSBC, METACO, Proxymity and State Street. Meanwhile, BlackRock, BNY Mellon, Clearstream, DTCC, Komainu, Standard Chartered, UBS and Zodia Custody also earned a shortlist spot. 
The categories cover asset servicing deals, initiatives and collaborations, along with fintech and digital asset initiatives. 
Winners will be announced on 25 May at the awards ceremony at Raffles, Singapore. The shortlist for our survey-based awards has already been published, while our Innovation and Individual honours will be announced on the evening. 
Should you wish to attend the awards, please contact daljit.sokhi@globalcustodian.com. For survey related awards questions contact richard.schwartz@globalcustodian.com and for Editors' Choice or any editorial-related queries, contact jon.watkins@globalcustodian.com. 
Asset Servicing Deal of the Year  
Citi & BlackRock Aladdin – Singlife 
HSBC – ETF Securities 
Standard Chartered – iFAST Financial 
State Street – Australian Retirement Trust 
Best New Asset Servicing Project/Initiative 
BNY Mellon – EPF Investment Accounting Project 
Citi – Vote Connect Total 
Proxymity – Digital Proxy Voting Service 
State Street – Fund Connect ETF Portal 
Asset Servicing Partnership of the Year 
Citi – BlackRock Aladdin 
METACO – DBS 
Proxymity – Computershare 
UBS – FNZ 
Market Infrastructure Project/Partnership of the Year  
Clearstream – QFI Status, Korea 
DTCC – Iyo Bank 
Euroclear – iETF cross-listing 
Euroclear – MoU, Korea cross-border link 
Digital Assets Initiative of the Year 
DBS – Digital Exchange and Custody 
HSBC – Orion 
METACO – Harmonise 
Zodia Custody – SBI Digital Asset Holdings 
Fintech of the Year for Projects in APAC  
FNZ 
Komainu 
METACO 
Proxymity