Global Custodian is pleased to announce that BNY Mellon's Roman Regelman has won its coveted annual Industry Person of the Year award, announced last night at the Leaders in Custody awards.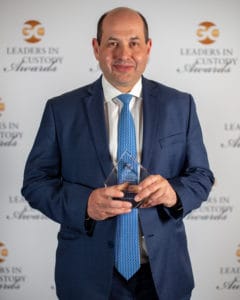 Regelman prevailed over the three other nominees – Staffan Ahlner, Dean Little and Jennifer Peve – who had been shortlisted for the honour recognising individuals who have gone above and beyond in their role over the past 12 months. 
Regelman represented Global Custodian's first ever repeat nomination for the Industry Person of the Year, commended for continuing to push the boundaries of innovation in the securities services sector. Through partnerships, investments and talent additions, Regelman's roadmap to positioning BNY Mellon at the top of the digital league table in the custody world has been unrivalled.
His endeavours recently led to him being promoted to CEO of securities services and digital. 
"I am honoured to be awarded Industry Person of the Year by Global Custodian," he said. "This recognition would not have been possible without my colleagues at BNY Mellon. I am very proud of the innovation at BNY Mellon and look forward to continuing to drive digital evolution and growth in our Assert Servicing and Issuer Services businesses."

The win makes it back-to-back Industry Person of the Year award victories for BNY Mellon after Caroline Butler picked up the honour in 2021. 
Regelman revealed to Global Custodian in December 2021 that the custodian had made 36 FinTech investments, an impressively high number. BNY Mellon has invested in Fireblocks – a digital asset custody, transfer and settlement platform – earlier this year in a series C funding, with the crypto outfit then going from strength-to-strength in the following months as its valuation soared. Other moves have included the backing of data and analytics start-up Quantexa, an investment in collateral mobility platform HQLAx and a partnership with New Jersey-based start-up Saphyre.  
In July last year, BNY Mellon also agreed to acquire fund management technology provider Milestone Group, in what has been a widely commended move to bolster its digital solutions capabilities and add OCIO [Outsourced Chief Investment Officer] services, cash allocation and fair value control solutions to the existing suite of NAV solutions.  
Now in its sixth year, the accolade was handed out during the annual Leaders in Custody awards at The Savoy in London. 
The honour is handed out twice a year – in London during May for custody, market infrastructure and technology, and November in New York for fund services. 
Previous winners of the award have come from Arcesium, Northern Trust, Citi, Deutsche Bank, Intertrust Group and Digital Asset. 
Given the many, many thousands of senior executives across the fund services industry, just making the shortlist is an incredible accomplishment, so Global Custodian would like to congratulate all of this year's nominees.