Celebrating International Women's Day within the asset servicing industry gives us the opportunity to highlight the remarkable female leaders and innovators in the space, while also telling the stories of a select few. It's also a chance to highlight the benefits of a diverse workforce, broader social justice movements and look at how the new normal of a hybrid working environment is laying the foundations for a correction of the glaring gender and racial imbalance that exists across the financial services industry.
To start with a celebratory angle, while "not perfect" – in the words of Northern Trust's Teresa Parker, a 40-year veteran and president for EMEA – the securities services business stands up fairly well in comparison to its investment banking and buy-side counterparts.
"I look around now and I'm not the only woman in the room of a nine-person management group," she says, "a third of us are women."
Northern Trust isn't an exception. Arguably one of the most influential people in global custody resides at JP Morgan in Teresa Heitsenrether, global head of securities services: BNY Mellon's Emily Portnoy recently became CFO after leading the global client management, sales and service teams for BNY Mellon's Asset Servicing business; Lieve Mostrey holds the CEO role at the world's largest ICSD in Euroclear; State Street's Nadine Chakar has been listed as one of the most powerful women in finance and now runs its ambitious digital assets initiative.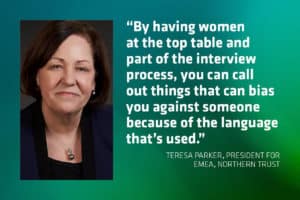 In addition, women hold the heads of securities services titles at Standard Chartered, UniCredit, DBS, HSBC, Raiffeisen Bank International, and DNB, among others. Meanwhile, Global Custodian's Industry Person of the Year has been won during its five years by BNY Mellon's Caroline Butler, Digital Asset's Kelly Mathieson and former Deutsche Bank custody head (now with Wells Fargo) Fiona Gallagher.
In recent years, our lifetime achievement awards have been handed to fund services legend Joan Kehoe, BBH's Susan Livingston and Northern Trust's Penny Biggs. Harking back to Parker's take, it's not perfect, but you also don't have to look far for representation.
While nobody could argue that we should decelerate efforts to increase diversity at all levels of the securities services industry, the examples above give you an idea of representation at the very top of these historic and major financial institutions in 2022. For those wanting to emulate them, or even just those who want to work somewhere that has prioritised diversity, company culture is crucial. For those companies acting, benefits await in the form of societal impact and the success of their respective businesses.
Representation, as we are learning more and more through social justice movements, is a critical component in equality.
"When I started at Northern Trust my supervisors were women," says Parker. "Then the next level up and the next level up from that, there were women. So I looked up and I saw women in those leadership roles and it wasn't actually unusual. I think that was helpful and it was one of the reasons I joined Northern Trust, because you did see that women could be successful.
A lifetime achievement and an obligation
The intentional exclusion from the list of recent Lifetime Achievement award winners above was Margaret Harwood-Jones, co-head of financing & securities services, financial markets at Standard Chartered. Harwood-Jones is one of the most influential and recognisable people in the emerging markets custody landscape and speaks with great pride about the initiatives Standard Chartered has engaged in for women across its banking locations.
"Our unique emerging markets footprint really gives us a strong belief that we have an obligation and responsibility to drive greater female participation in the markets that we're in," she says. 
"So over the last couple of years we've been running a women in technology incubator programme in a number of our countries in Bahrain, Zambia, Ghana, Kenya, Nigeria, Pakistan, the UAE – to name a few – and we've reached over 9,160 women. We've engaged a further 290 women in women-led ventures and delivered funding support of almost three-quarters of a million US dollars.
"We also have our Future Makers initiative that's all about promoting female entrepreneurs and professionals. And that program has reached almost 60,000 girls and young women."
Upon receipt of her Lifetime Achievement award from Global Custodian, Harwood-Jones has previously told us that when interviewing for her first job at HSBC, she was the only woman shortlisted. When she unexpectedly landed the role – referring to the interview as a "disaster" – the world awaiting her was male dominated, something that's evidently led her to lowering the ladder back down for the women following her.
"When I joined banking, so often I was the only female in the office," she says. "Often, I was the only female on national training courses seen if they were targeted at our same or junior levels, and there are too many occasions now for me to count the meetings I was in when I was the only female. 
"But my excitement now is that you really do see that that is shifting, there is a shift in roles, there is a shift in opportunities."
Initiatives are occurring all over the industry – the Women in Asset Servicing (WiAS) group being an example – while the percentages of female executives and board members are on the rise. The hope is that with greater representation, conversation, and more flexibility in the workplace, that we will see the desired change.
An ambition to be independent and self-sufficient
Pat Sharman, country managing director UK at CACEIS, is a 37-year securities services veteran, and a leader who puts culture, societal impact and education at the forefront of an approach curated over a career specialising in pension funds with HSBC and KAS Bank. Sharman – who said she started in the City at a very young age "with an ambition to be independent and self-sufficient" is a strong advocate for the benefits of diversity and inclusion.
"I have seen many changes over the years, especially recently, with the rapidly growing focus on corporate social responsibility (CSR). This has raised the importance of diversity and inclusion and the benefits it can bring to decision-making, which I think is gradually creating more diversity balance in the workplace – there is still more work to do," she says.
"International Women's Day is a moment for companies to stop and think about the clear benefits of diversity and inclusion in their workforce, which creates big opportunities for companies. It's well recognised that diverse teams bring diversity of thinking, different ideas to resolve problems and building new solutions, which in turn allows them to serve broader customer groups, offer businesses better opportunities to expand market share, and enhance potential to be more flexible and innovative."
Sharman adds, however, that we have to be cautious that any evaluation does not turn into a box-ticking exercise.
"We need to be thinking more broadly than general comparisons. For example, one of the largest areas of opportunity for financial services is to think more flexibly about recruitment in general.
"This means seeking exceptional candidates who may ordinarily be overlooked due to a lack of experience or relevant work history. It means continuing to develop approaches in finding and developing younger talent – and attracting a broader mix of graduates and school leavers. It also means building teams with a diverse mix of people. If the industry is truly to up its game, it needs to embrace new ways of working and recruitment is a huge part of this."
Diversity goes beyond gender
The women we spoke to for this feature all had something in common in their messages – their definition of diversity goes beyond gender as they recognise the importance and need to bring different ethnicities and backgrounds into the conversation. Even on IWD, they are willing to broaden the discussion.
"I went back and looked to see what it was that started International Women's Day. Why did it start? What were they after? What were they trying to get to?" says Parker. "It was a time of great industrialisation at the beginning of the 1900s… and it was all about getting better working rights and better education and training, but one of the things that struck me was that it was a social justice movement, and I was equally as struck by how inclusive it was. Some of the first Women's Day parades had equal men and women. 
"The women were advocating for better conditions for everyone, and so I think Black Lives Matter is a social justice movement as well, they're advocating for everyone to be seeing equal opportunities, and I think that's really important." 
There are many steps in the journey for equality, some less obvious than others. For example, engaging men and boys in the conversation, something we must remember in our careers and personal lives. Many of the associations and initiatives dedicated to women across the financial services industry open their doors to men as well, whether that's as part of their membership, networking or panel discussions. This is an endeavour for all.
Another is that while quotas are part of the solution, there are factors far earlier in the recruitment process – and all the way back to the education system, in fact – that need to be addressed. Sharman earlier brought up the notion of 'box-ticking' which is very much a short-term solution to a long-term problem, the addressing of unconscious bias is a lesson everyone needs to be aware of.
Parker offers an example of the labels we give to different genders, ethnicities, and ages with a similar trait, and how that can influence the promotion and hiring processes.
"By having women at the top table and part of the interview process, you can call out things that can bias you against someone because of the language that's used. So, for example, a man might be 'assertive', but a woman is 'aggressive'. Well, when you hear those two things, one sounds a little bit worse than the other one, a little bit menacing, doesn't it?
"And if you're a woman at the top table, you can start to say: 'do you realise that we do this?'. In fact, we all do this. I do this as a woman. So it's all societal, and we need to really step back and say 'are we evaluating everyone in a similar way?'
"Ethnic minorities have different terms that are used that change how you might think about them relative to the majority, and I think having people call that out, it's really an important part of the conversation."
The future of work
When considering what a 2022 IWD article would look like compared with coverage in previous years, the emergence of a hybrid and remote working environment in the context of equality and opportunity sprung immediately to mind.
There is a lot to unpack on exactly what it means for the workforce – for example we must consider those who may not have the luxury of space to work from home, and the lack of separation between home and the workplace that comes with it – but one thing that is advantageous to women (and men) is the flexibility and removal of commutes, both of which lead to more free time. In the case of mothers, that free time can be spent with families, picking children up from school, attending sports days and plays, ultimately not having to pick between being a parent and their career.
Harwood-Jones describes it as "liberating" for both men and women. "When my kids were at school, I remember making those awful choices about whether I turned the mobile phone off and went to the kids' sports day or did I stay in the office and work. I know in hindsight, looking back, there were times that I made probably the wrong decision and usually the bank came first, because it just wasn't easy to navigate – with the commuting distance from home to the office and being there for all the things you wanted to be there for, for your children. I think the last two years has been actually hugely beneficial."
Parker concurs, and praises the evolution of the workplace in the sense that "to be at home with your children or to be able to go to your kids' events and it not being viewed as unusual, a favour or something special", labels she describes as "a problem".
She adds that the developments in technology will also have benefits. "Technology being sped up over the pandemic, just think about what that does in terms of being able to do work anywhere and at different times. I do think that hybrid working will give families more flexibility.
"I also think part-time schedules – which actually pre-pandemic were tough for women to get – because of technology and flexibility in the way that they are given out, work will be easier to do, and I think that'll allow women to stay in the industry with significant responsibilities."
A flexible working environment somewhat removes the binary perceptions of categorising professionals into the category of a "career woman" or "dedicated mother". Labels seldom extended to men with the same negative connotations, this pressure has historically taken its toll on women in the workplace, but a flexible working model – by definition – can allow a better balance. This doesn't mean anyone working less effectively or performing their role with a drop-off in performance, it just allows choice and optionality.
"It is really important we keep the best of what worked in the post-pandemic future to encourage new and innovative thinking," says Sharman.
"I think hybrid working is great for both working mothers and working fathers. It could also encourage more talent to enter the market as location could become irrelevant and I think it creates a closer bond between the employer and employee – regardless of status – because of the important societal impacts of hybrid working."
Hybrid working isn't solely about diversity, it evidently benefits everyone, hence the widespread adoption. But in the context of mothers or those aspiring to have a family, it can be life-changing. The difference between working and not, chasing promotions and not, even opening up roles that may have previously required upping your life and moving continent. Even if it means earlier starts and later nights, many agree they have more time in their day for everything.
"It's fair to say that hybrid working probably was not previously widely accepted," says Harwood-Jones. "We have recalibrated all of the roles that we have across the organisation and wherever it's possible we've offered staff the opportunity to formally be within a hybrid working model. 
"There's no doubt that just allows you to be able to find your own personal working rhythm, acknowledging that we're all different. And I think already we're seeing that. 
[It} has enabled people that otherwise might have exited the workplace to stay in the workplace."
Advice and mentoring
This doesn't mean the end of the office however, and Parker urges women – and everyone – not to lose sight of the importance of teamwork, interaction and networking.
"I think there is still a purpose for the office…which is a good place for collaboration, innovation, career building, mentoring," she explains. "So making sure that you're visible in the office and the right times is important. If you're not at events and you're not present, I think that could be a problem."
The notion of mentoring has picked up in recent decades and is not a concept confined to women in the industry, but it's played a major role in correcting an imbalance. Advocacy, alongside mentoring, has also been important and both men and women have become a lot more vocal about equality at every level of the securities services industry, for this to continue to have an impact it must continue. And for mentoring to be truly impactful, it has to be flexible and adaptable to the individual, and to have longevity.
"I think it [mentoring] is really important, so experiences and learnings can be shared," says Sharman. "But for mentoring to be truly successful, it needs a 360-degree approach, cutting across gender, ethnicity and background.
"For any women wanting to join a financial services company I would say that they shouldn't be afraid to contact and speak to successful men and women, to find out how they have succeeded in the financial sector and learn from their mistakes."
"Mentoring is not just about setting objectives at the start of the year and saying 'good luck', it is about taking the time to understand an individual and work closely with them throughout the year. It is only then that a leader can understand how best to motivate that individual. In so many large companies, staff development has become about process, but one-size-fits-all development systems don't work for everyone."
You can't tell the story of women in the asset servicing industry without acknowledging the success, the opportunities and the challenges together. Fortunately the snowball effect of this movement gathers voices and support with each passing year, regardless of quotas and milestones, there's work within the foundations of the securities services space that will hopefully make the celebratory angle the only viewpoint in years to come.
To conclude, Parker shares some advice for other women in the industry. It's specific, direct and relatable, delivered from someone who has been there and now provides representation and a voice of advocacy at the top table.
"There are exceptions, but I feel women don't spend as much time at advocating for people understanding their achievements," says Parker. "I have two sons and I can see they spend time actually making sure that people understand what they've accomplished, and sometimes women just go on to the next task.
"It's good to tell people what you've achieved because otherwise they may not know. Don't assume that everyone knows what you've done."
She adds that women should also treat debates with men in the industry like a tennis game, rather than getting frustrated.
"When someone challenges you, just lob it back and say 'here's why I did this'. It's about trying to improve the debate and make sure we're coming to good decisions. Sometimes I see middle mid-level women getting concerned about these instances being an attack, but it's not attack, it's a debate. 
"You're probably better prepared than you think you are, so just debate back and don't be so worried that you don't have a precise exact answer because they probably don't have the precise exact answer. So understand that, get in the game and put your idea forward, be part of the discussion and don't worry about being so perfect."